Canciones de resistencia, canciones de esperanza: formas de protagonismo negro en las protestas raciales de Estados Unidos (1950-1960)
Resumo
Resumen: El objetivo de este ensayo es estudiar cómo manifestaciones culturales, en este caso, la religión y las canciones tanto esclavas como las posteriormente utilizadas en las protestas por los derechos civiles en el siglo XX, pueden ser comprendidas como instrumentos de resistencia y mecanismos de ruptura del silencio dentro de un contexto opresor. La hipótesis propuesta es que detrás del poder hegemónico de la mayor parte de la comunidad blanca norteamericana, el protagonismo de los afrodescendientes se hizo notar por medio de su música y espiritualidad. Este arsenal cultural, surgido en los años de esclavitud, sirvió como código compartido y como memoria colectiva de la comunidad negra, perpetuándose como legado de resistencia para las luchas de los derechos civiles en los años 50 y 60, momento en que los pequeños actos de resistencia se convirtieron en amenaza abierta al sistema segregacionista.
Palabras-clave: expresión cultural y política – resistencia afrodescendiente – Estados Unidos
Downloads
Não há dados estatísticos.
Referências
Referencias Bibliográficas
Fuentes
BRODERICK, Francis; MEIER, August. Negro protest in the Twentieth Century. Indianápolis, Nueva Iorque y Kansas: Bobbs Merrill Company, 1965.
DOUGLASS, Frederick. Narrative of Frederick Douglass. Chapell Hill: Universidad de Carolina del Norte en Chapell Hill, 1999.
DUBOIS, E.W.B. The souls of the black folk. Project Gutenberg, 2008. Disponible en: <http://www.gutenberg.org/ebooks/408>. Acceso en: 16 de mayo de 2019.
KING JR., Martin Luther. Beyond Vietnam, a time to break silence. Disponible en <http://www.americanrhetoric.com/speeches/mlkatimetobreaksilence.htm>. Acceso en: 16 de mayo de 2019
REAGON, Bernice Johnson (productora). Album Voices of the Civil Rights movement – Black American Freedom Song (1960-1966). Washington: Smithsonian Folkwkays Recordings, 1997.
Bibliografia
Libros
BAILÓN VÁSQUEZ, Fabiola. Mujeres en el servicio doméstico y en la prostitución – sobrevivencia, control y vida cotidiana en la Oaxaca porfiriana. México: El Colegio de México, 2014.
BARAKA, Imamu. Blues people. Nueva York: W. Morrow, 1963.
CUSIC, Don. The sound of light – a history of gospel and Christian music. Milwaukee: Hal Leonard, 1990.
FALCÓN, Romana (Coord.). Culturas de pobreza y resistencia: estudios de marginados, proscritos y descontentos. México (1804-1910). México: El Colegio de México.2005.
GENOVESE, Eugene. Roll, Jordan, Roll – the world the slaves made. Nueva York: Vintage Books, 1972.
GILROY, Paul. The Black Atlantic. Cambridge: Harvard University Press,1995.
LOWNEY, John. Jazz Internationalism: Literary Afro-Modernism and the Cultural Politics of Black Music. Illinois: University of Illinois Press, 2016.
MATTOSO, Katia. To be a slave in Brazil (1550-1888). New Brunswick: Rutgers University Press, 1979.
PANI, Érika. Historia Minima de Estados Unidos de América. Ciudad de México: El Colegio de México – Centro de Estudios Históricos, 2016.
PATTERSON, Orlando. Slavery and social death – a comparative study. Cambridge: Harvard University Press, 1982.
OLIVER, Paul. Blues fell this morning – meaning in the blues. Cambridge: Cambridge University Press, 1990.
ROY, William G. Reds, whites and blues – social movements, folk music and race in the United States. Princeton y Oxford: Princeton University Press, 2010.
SCOTT, James. Los dominados y el arte de la resistencia – discursos ocultos. México: Ediciones Era, 2000.
SHANE, White. The sounds of slavery: discovering African American history through songs, sermons, and speech. Boston: Beacon Press, 2005.
SLENES, Robert. Na senzala, uma flor- esperanças e recordações na formação da família escrava, Brasil sudeste, século XIX. Rio de Janeiro: Nova Fronteira, 1999.
THOMPSON. E.P. La formación de la clase obrera en Inglaterra. Madrid: Capitán Swing Libros, 2012.
Capítulos de libros
GUHA, Ranajit. La prosa de la contra insurgencia. In: DUBE, Saurabh (org.) Pasados postcoloniales. Colección de ensayos sobre la nueva historia y etnografía de la India. México: El Colegio de México, 1999.
LOMAX, Alan. Folk Music in the Roosevelt Era. In: LOMAX, Alan (org.) Selected Writings, 1934–1997. Nueva York: Ronald D. Cohen/ Routledge, 2003.
SELBIN, Eric. Revolution in the real world. Bringing agency back in. In: FORAN, John (editor). Theorizing revolutions. Londres y Nueva York, Routledge, 1997.
Artículos
Artículos de revista
HALL, Jacquelin Dowd. The long civil rights movement and the political uses of the past. The Journal of American History, Oxford, vol. 91, No. 4, pp. 1233-1263, Marzo, 2005.
RADANO, Ronald. Black Music Labor and the animated properties of slave sound. Boudary, Durham: Duke University Press, pp.173-208, Febrero, 2016.
Artículos electrónicos
ABREU, Marta. O legado das canções escravas nos Estados Unidos e no Brasil: diálogos musicais no pós-abolição. Revista Brasileira de História. São Paulo, v. 35, no 69, p.177-204, 2015. Disponible em:< http://dx.doi.org/10.1590/1806-93472015v35n69009 >. Acceso en: 03 de noviembre de 2019.
BROWN, Sterling. Negro folk expressions: spiritual, seculars, ballads and work songs. Disponible en: <http://www.english.illinois.edu/maps/poets/a_f/brown/folkexpression.htm> Acceso en: 16 de mayo de 2019.
Tesis
LISKEY, Renee. Spirituals, rhyme and the black night of slavery – a philosophical journey of the american slaves of the south through their music and poetry. Tesis de maestría en Artes y Humanidades defendida en la Facultad de California State University Dominguez Hills en 2013.
Sitios en internet
African American Spirituals and Early Gospel Songs. Disponible en: <http://www.negrospirituals.com/>. Acceso en: 16 de mayo de 2019
Civil Rights Songs. Disponible en: <http://civilrightssongs.blogspot.mx>. Acceso en: 16 de mayo de 2019.
Distribution of slaves in United States History. Disponible en: <http://thomaslegioncherokee.tripod.com/distributionofslavesinunitedstateshistory.html>. Acceso en: 03 de noviembre de 2019.
National Associaton for the Advancement of Coloured People. Disponible en: <http://www.naacp.org/>. Acceso en: 16 de mayo de 2019.
Song Facts. Disponible en: <http://www.songfacts.com/>. Acceso en: 16 de mayo de 2019.
Youtube. Disponible en: < https://www.youtube.com>. Acceso en: 16 de mayo de 2019.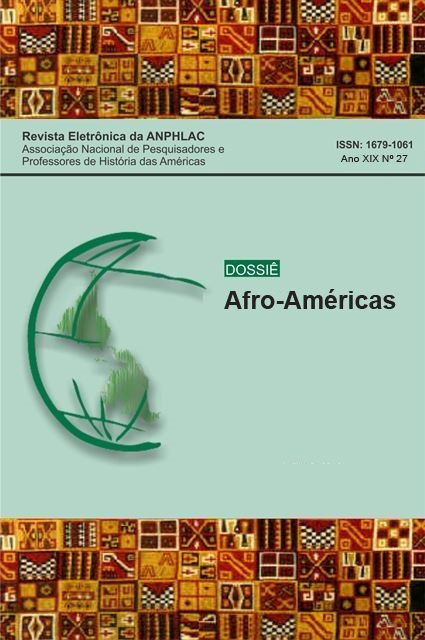 Downloads
Como Citar
Rocha, C. da C. (2019). Canciones de resistencia, canciones de esperanza: formas de protagonismo negro en las protestas raciales de Estados Unidos (1950-1960). Revista Eletrônica Da ANPHLAC, (27), 257–279. https://doi.org/10.46752/anphlac.27.2019.3461
Licença
a. Cessão de direitos autorais
Venho, por meio desta, ceder em caráter definitivo os direitos autorais do artigo  "____________", de minha autoria,  à Revista Eletrônica da ANPHLAC e afirmo estar ciente de que estou sujeito às penalidades da Lei de Direitos Autorais (Nº9609, de 19/02/98) no caso de sua infração. Autorizo a Revista Eletrônica da ANPHLAC a publicar a referida colaboração em meio digital, sem implicância de pagamento de direitosautorais ou taxas aos autores.
b. Declaração de ineditismo e autoria
Atesto que o artigo ora submetido à Revista Eletrônica da ANPHLAC, intitulado "________________________", de minha autoria, nunca foi publicado anteriormente, na íntegra ou em partes, dentro do país. Vindo a ser publicado na Revista Eletrônica da ANPHLAC, comprometo-me a não republicá-lo em qualquer outro veículo editorial.